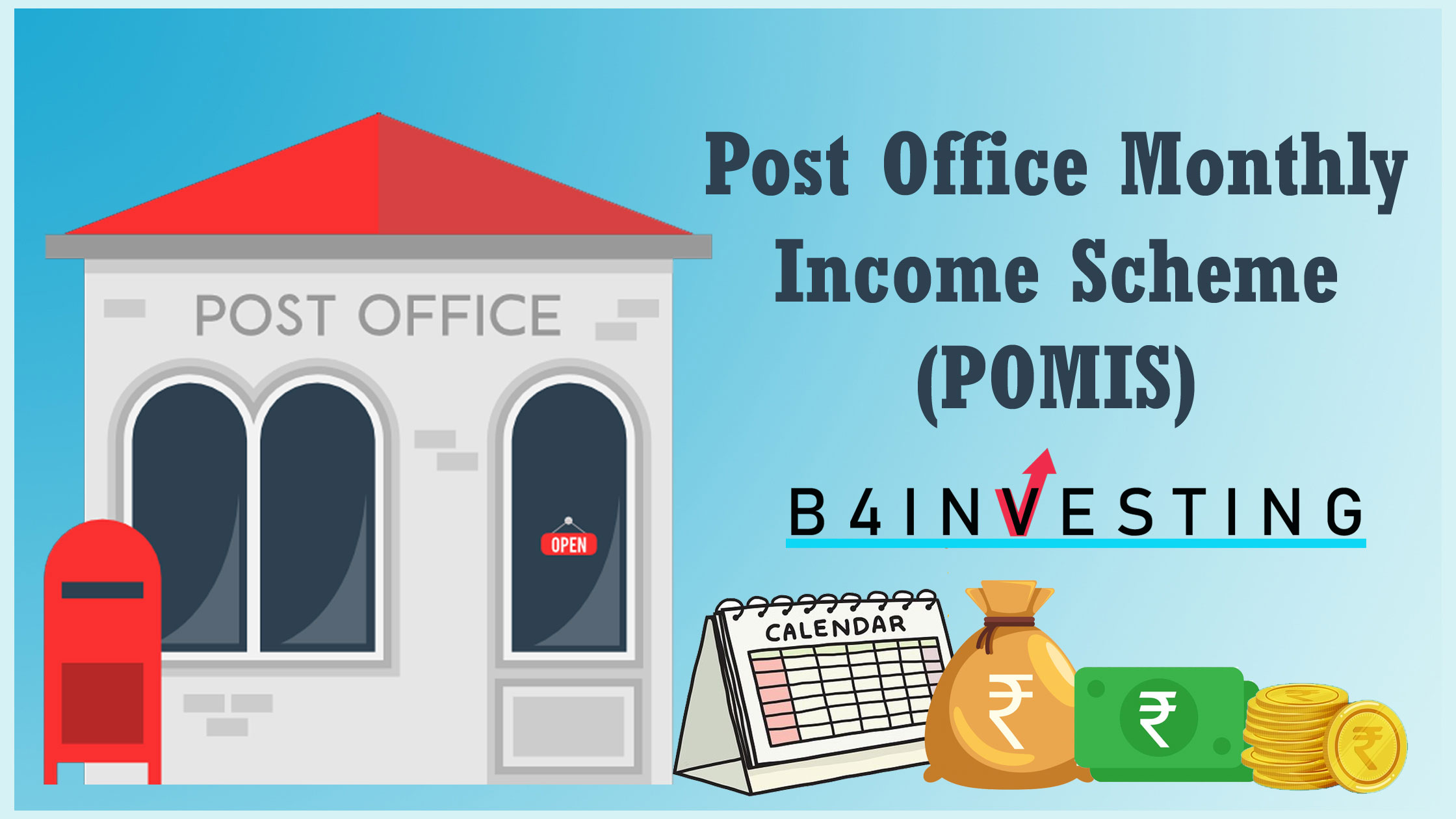 How to invest in Post Office Monthly Income Scheme?

Monthly Income scheme is offered by Post Office. Investor has to invest certain amount and gets fixed interest every month. Interest rate is decided periodically by the government and it is a low-risk plan. Lets read more about POMIS in detail.
Eligibility
The individuals given below are eligible to avail the scheme-
Indian citizen. NRIs are not eligible to invest in POMIS
Individual of or above the age of 10 year
Amount
Following table shows the minimum and maximum amount needed to open POMIS account.
| | | |
| --- | --- | --- |
| Account Type | Deposit (Minimum) | Deposit (Maximum) |
| Single | Rs.1500 | Rs.4,50,000 |
| Joint (up to 3 joint holders) | Rs.1500 | Rs.9,00,000 |
| Minor | Rs.1500 | Rs.3,00,000 |
Interest is payable after one month of account opening. Interest is paid till maturity of the account.
Read more: POST OFFICE SAVING SCHEMES
Who should invest in POMIS?
This is a long-term investment. This scheme is good option for people who want regular income and don't want to take much risk. This scheme is good after retirement as senior citizen get regular income to satisfy monthly daily expenses.
POMIS Account Opening
POMIS account can be opened by visiting post office and filling up an account opening form. Photograph of applicant, address proof and identity proof (passport/PAN card/ration card/voter identity card) are needed. Individual or joint account can be opened.
How does POMIS work?
Investor needs to open an account with certain deposit. Investor receives regular income till maturity period. After tenure, investor receives deposit back.
For example, Mr ABC invested Rs.4,50,000 in the post office monthly income scheme with a maturity period of 5 years. Interest rate is 8% so he receives Rs.3000 per month. After 5 years, investor gets his deposit amount back. If investor does not withdraw interest for few months then the money just lies in account but does not earn any interest.
Read more: Taxation and Tax Saving Options in India
Account Closure
The MIS account is valid for five years from the date of opening.
Investor can't close the account before the end of a year from date of opening.
If the account is closed after a year but before 3 years, 2% will be deducted from the principal before repayment.
After 3 years but before 5 years from date of opening, 1% will be deducted from the principal before repayment.
What are the features of POMIS?
Lock-in period: Investor cannot withdraw the amount deposited in POMIS prior to 5 years.
Maximum limit: Investor can make a maximum investment of Rs. 4.5 Lakh in the scheme. If investor has the scheme in multiple post offices, the aggregate of all deposit cannot exceed Rs. 4.5 Lakh.
Transferrable: If investor is shifting to a different city anywhere in India, investor can transfer POMIS account to a convenient post office.
Joint account: 3 individuals can open a joint account for POMIS scheme. Each investor possesses equal rights over the account. The maximum limit in case of joint accounts is Rs. 9 Lakh.
Minor account: Investor can open a POMIS minor account in the name of minor of 10 years and above. Minor can withdraw the amount after maturing to 18 years.
Regular Payment: Regular payment of interest makes this scheme an attractive investment option for those looking to earn regular income.
Low risk: Safe investment that offers guaranteed returns after the maturity period. The risk-level in this scheme is almost 0%.
What is the difference between POMIS and Monthly Income Mutual Fund?
| | |
| --- | --- |
| POMIS | Monthly Income Mutual Funds |
| Assured income at an annual fixed interest rate which changes every quarter by government | No assured income as scheme invests money in equity and debt market |
| TDS not applicable | TDS is applied |
| Fixed return | Return changes as it depends on market |
| Suitable for people with low-risk appetite | Suitable for people with high-risk appetite |
| Investment limit of Rs.4,50,500 for individual and Rs.9,00,000 for joint account | No investment limit |
Conclusion:
Post Office Monthly Income Scheme is a long term investment with lock in period of 5 years where you have to invest certain amount and receives regular income. POMIS is a good option for people looking for monthly income. POMIS is a good option for senior citizens as its low risky as compared to mutual fund monthly income scheme.