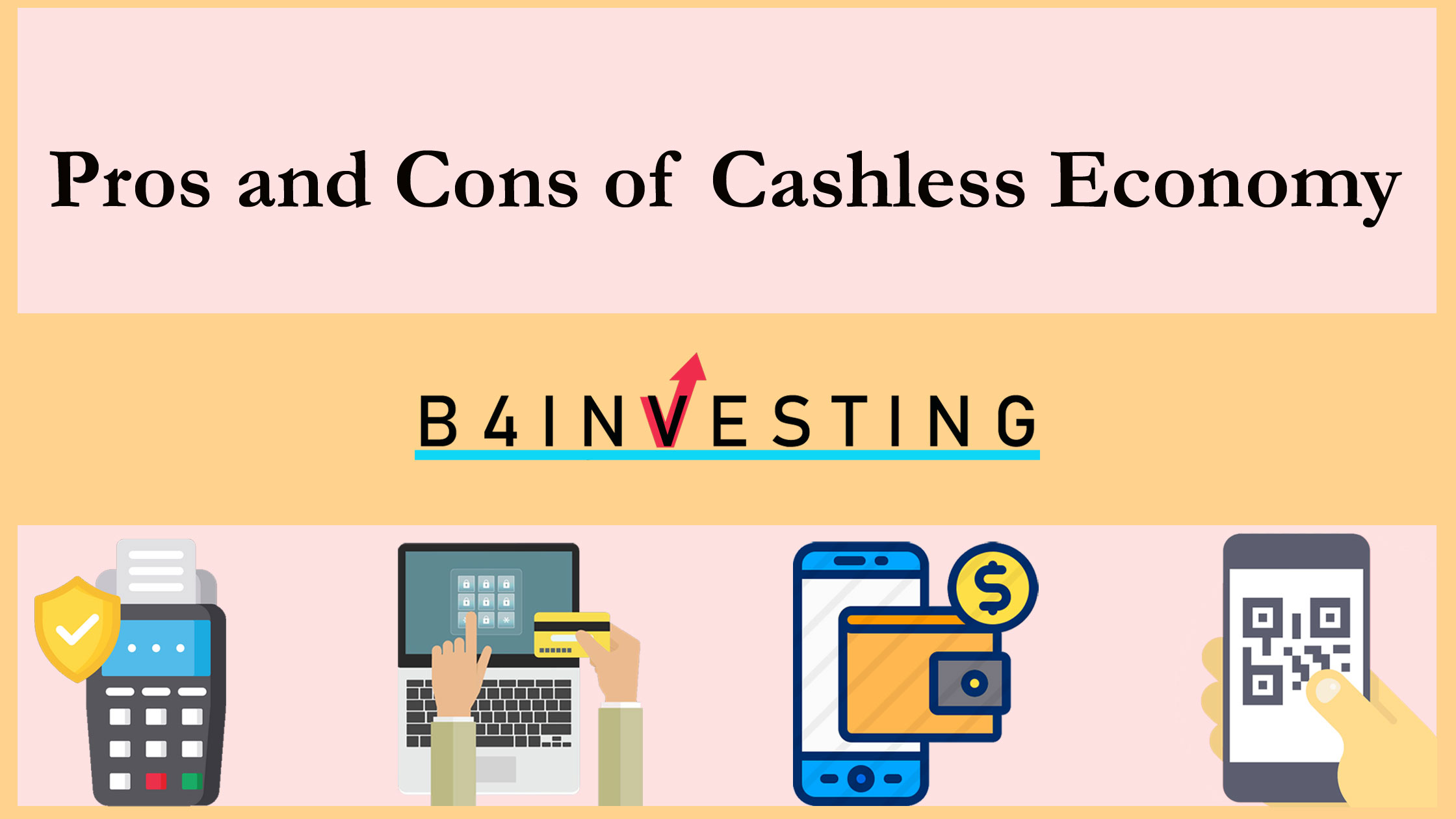 Cashless Economy: Is it a Boon or Bane for India?
Money is probably the most significant invention in the history of economics. However, most of the developed and developing nations have moved a step further towards Cashless Economy. In India as well we see that cashless system has penetrated to a wide extent.
What is Cashless Economy?
An economic system supported by the electronic mode of transaction is termed as Cashless Economy. An economy where financial transaction are made digitally, without the involvement of physical cash. Cashless transactions are made over digital platforms like net banking, mobile banking, e-wallet, debit and credit cards, etc.
Cashless Economy in India
Government of India has launched various cashless instruments in the recent past. Various steps were taken to encourage the use of plastic money in the union budget. 'Digital India' has made cashless transaction popular. Prepaid payment instruments and plastic cards are some of the efforts taken by RBI and the government to promote digital payment modes. Technology has also made huge development which makes cashless economy to operate smoothly. Electronic payment systems like core banking solutions, mobile banking, net banking, UPI payments are becoming a day-to-day financial transaction mode for all.
Prime Minister Narendra Modi said ; "India is on its way to become a digital economy. The time is not far when every Indian, even the poorest, would say " digi dhan, niji dhan"(digital money is my money)".
"A cashless economy is secure, it is clean. You have a leadership role to play in taking India towards an increasingly digital economy."
"If all of us start transacting through online and mobile banking. It will be our great contribution towards eradicating corruption and black money from our country."
Cashless Transaction methods in India:
Cashless transaction is an option for cash. Some of them that are being used in India is listed below.
Cheque
Debit / Credit Card
RTGS
NEFT
IMPS
Mobile Banking
Aadhaar Enabled Payment System(AEPS)
UPI
The emphasis on cashless transaction has increased after demonetization. There has been a growing trend towards electronic payment rather than physical cash. This trend has accelerated since the fallout of Coronavirus which helps in avoiding physical contact.
Pros and Cons of Cashless Economy
We here at "b4investing" are trying to make it easy for you to understand the boon and bane associated with cashless economy.
Advantages
Disadvantages
Quicker transactions & shorter queues.
Transparency.
Less tax evasion.
Reduces risk of violent crimes.
Harder for organized crime.
Lower transaction costs for business.
Better hygiene and reduces virus transmission.
Eco-friendly economy.
Discount.
Bank account compulsion.
Privacy.
Overspending.
Illiteracy.
Increased tax rate.
Cyber crime.
Lack of infrastructure.
Physical cash.
Technological failures.
Benefits of Cashless Economy :
Quicker transaction and shorter queues: Paying for a certain commodity with cash takes time and makes the queue longer. For time-sensitive business it is a major issue. So online transaction makes the work quick and saves time for both the party involved.
Transparency: Electronic transaction will improve transparency and accountability. Tracking the transaction becomes easy. Scrutiny is also done with ease.
Less tax evasion: A major problem for government is the issue of tax evasion. Self-employed workers such as builders take payment in cash (black money) and declare less income than actually earned and pay less tax. This leads to loss of income tax revenue for the government.
Reduces risk of violent crime: Cash has been the reason for crime in a lot of cases. It puts the cash holder at risk. If the physical cash is removed from the transaction the risk is lowered significantly.
Harder for organized crimes: Cash transaction is the major source of organized crimes. Black money and money laundering will reduce as there is an increase in cashless economy. The cashless society is much secure.
Lower transaction cost: Business that accept cards will have lower transaction cost as there is less labour involved in cash counting and sending money to bank. It also avoids inaccuracy related to human error related to counting and processing forged notes.
Better hygiene and reduces virus transmission: After the spread of Covid-19, almost all the transaction have shifted to online transaction. The encouragement by the government is also towards shifting to e-payment so that there is less chances of transmission of virus through touch or human contact. Before 2020, this point would not have been relevant but in present times it is a basic necessity.
Eco-friendly economy: There will be no printing cost for paper notes and metal coins. Hence, the environment will not get harmed by cutting trees.
Discount: The recent waiver of service tax on card transaction up to Rs.2000 is one of the incentives provided by the government to promote digital transactions. This has been followed by a series of cuts and freebies. It's a great time to take these benefits and save in your budget.
Disadvantages of Cashless Economy :
Bank account compulsion: Transaction is not possible if do not have bank account. For certain strata of society it is not easy to have a bank account and to proceed with online transaction. But, the government is taking it up with utmost priority and "Jan Dhan Uyojana" is working towards it in getting bank account for all.
Privacy: The information of biometric data of Aadhaar along with the bank account details should be kept secured. This set of data will give the government enormous power. Any kind of potential misuse of this data will deny the people their fundamental rights and would be catastrophic.
Overspending: There is convenience in cashless transaction but it could also become spending trap for unsuspecting population. People tend to spend more even they indulge in online transaction as the physical cash also has emotional value attached and the pain of spending it is felt which is missing in this case.
Illiteracy: Illiterate poor people may find it a very hard to work with cashless transaction as they to do not have any functional knowledge to work with the mobile or other devices. The ability of buying a smartphone also comes into consideration.
Increased tax rate: Various surcharges and taxes are carried out on online transaction.
Cyber Crime: Increasing rate of cyber fraud like hacking, fake mobile apps, fake messages are also a serious issue. Losing phone may lead to losing all data and hence all your money if you are not careful.
Lack of Infrastructure: Poor internet facility in remote villages in India is still an obstacle to digital fund transfer.
Physical cash: The basic need for cash will remain unaltered for long years to come in a country like India. Also, the pain of parting with money is felt more acutely with the use of physical cash.
Technological failures: Digital economy is completely technology dependent. If there is any internet or intranet breakdown, there will be sudden stop to the payment network. This can act as a major hindrance.
Inference:
The cashless system is indeed an improvement over the traditional cash based system. However, none of the advanced economy has fully replaced the cash as it is practically not possible. Cashless Economy cannot to achieved in India any time soon. There is always two sides to a coin the digital system is transparent but quiet difficult to implement in rural India. Cashless economy definitely leads towards growth but the government and we as individuals have to work great deal in order to become a Cashless Society. We need to optimistic and ready to accept change.
Be Educated!
Be Bold!!
But, Be Careful!!!
Happy Investing!!!