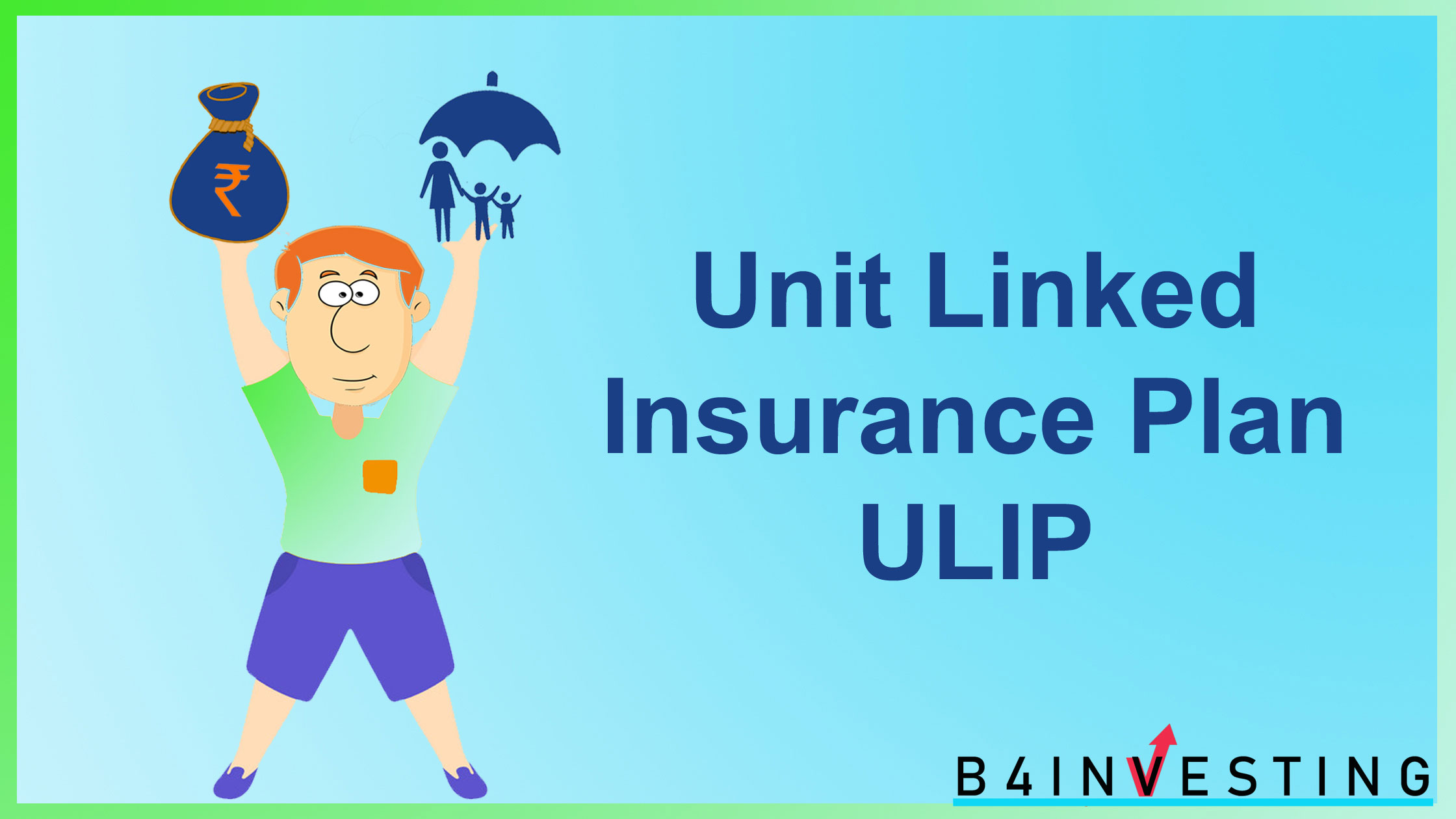 Unit Linked Insurance Plan (ULIP)
What is ULIP?
Unit Linked Insurance Plan or ULIP is a type of life insurance policy, which offers investment and insurance. ULIPs were first introduced in India by Unit Trust of India (UTI) in 1971. It offers you an opportunity for wealth creation along with the protection of a life cover.
ULIPs invest investor's money in the financial instruments like equity, debt or both. The returns on the investment depend upon the performance of the funds selected by you.
How does ULIP work?
Investor has to decide policy term, life cover, premium payment frequency, premium amount, premium payment method.
Each investor is allocated 'units' as per their investment amount. Total money invested in ULIP (total corpus) is divided into 'units' with a certain face value. The value of each unit, at any point in time, is called the Net Asset Value (NAV). As the value of the underlying assets increase or decrease, NAV also increases and decreases.
One part of premium which invested by investor goes for insurance cover and remaining part is invested in equity, debt or hybrid funds based on investors preference.
ULIP has pre decided death benefit which is paid to nominee in case of unfortunate. And if policy holder survives term of the ULIP then investor receives maturity value of ULIP generated from investing in equity market, debt market or both.
So, the insurance cover remains fixed but the maturity benefits depend upon which option investor has selected for investment like equity, debt or both.
Premium invested in equity market carries high risk investment but offers higher returns.
Premium invested in debt market like government securities, fixed income bonds have medium risk and offers low to medium returns.
Premium invested in money market offers low risk and low return.
ULIP allows investor to switch portfolio between different fund types as per the performance of market.
What are the benefits of investing in ULIP?
Offers dual benefit – life insurance cover and wealth creation as well
Investor can choose investment options like equity funds (high risk), deb funds (low risk), hybrid (moderate risk).
Investor can switch funds based on the market outlook
ULIP can help you in achieving life goals like children's higher education, retirement planning, children's wedding, etc.
Premium paid is eligible for tax deduction under section 80C upto Rs. 1,50,000. The returns from the policy are exempted from income tax under Section 10(10D) on maturity.
Investor can partially withdraw money after 5 years of lock in period. The number of withdrawals and how much an investor can withdraw depend on the insurance providers.
Investor can invest additional amount apart from fixed premium to generate more revenue.
ULIP or Mutual Fund?
| | |
| --- | --- |
| ULIP | Mutual Fund |
| Investment + insurance | Purely investment |
| Lock in period of 5 years | Funds can be withdrawn at any time |
| Switching of funds possible without any taxes | Fund is redeemed for switching and capital gain tax is applicable |
| Governed by Insurance Regulatory and Development Authority of India (IRDAI) | Governed by Association of Mutual Funds in India (AMFI) |
What is sum assured in ULIP?
Minimum guaranteed amount offered to nominee by ULIP if policyholder dies.
What is the maturity benefit payable if a ULIP matures?
A maturity benefit of ULIP is the amount offered by the insurer to the policyholder if the policyholder survives beyond the maturity period of the policy. The maturity benefit is equal to the amount of the fund value.
What are the fees and charges for ULIP?
Policy administration charges: Imposed for managing the administration of your policy
Premium allocation charges: charged by the insurance company before allocating the policy such as initial and renewal expenses, medical expenses, etc.
Mortality charges: depend upon a number of factors such as age, amount of sum assured, etc.
Fund management charges: imposed for managing your funds so that you earn potentially higher returns
Switching charges: investors can switch between funds every year on the basis of performance and risk appetite. But, each switching would attract some charges depending on the insurance company's charge structure.
Partial withdrawal charges: provide partial withdrawal of funds that allows investors to withdraw money partially
Who should buy a ULIP?
ULIP is the best option for long term investment.
It offers two benefits: wealth creation along with life insurance cover.
If someone wants tax saving option then ULIP is the option which helps in saving tax. Premium paid is tax exempted as per section 80c and return from the policy is also exempt from tax as per section 10D.
ULIP helps in achieving long term financial goals as it creates wealth and also offers to protect family in absence of policy holder.
ULIP invests in equity market as well as debt and investor has option to switch between. So, ULIP can give higher return.