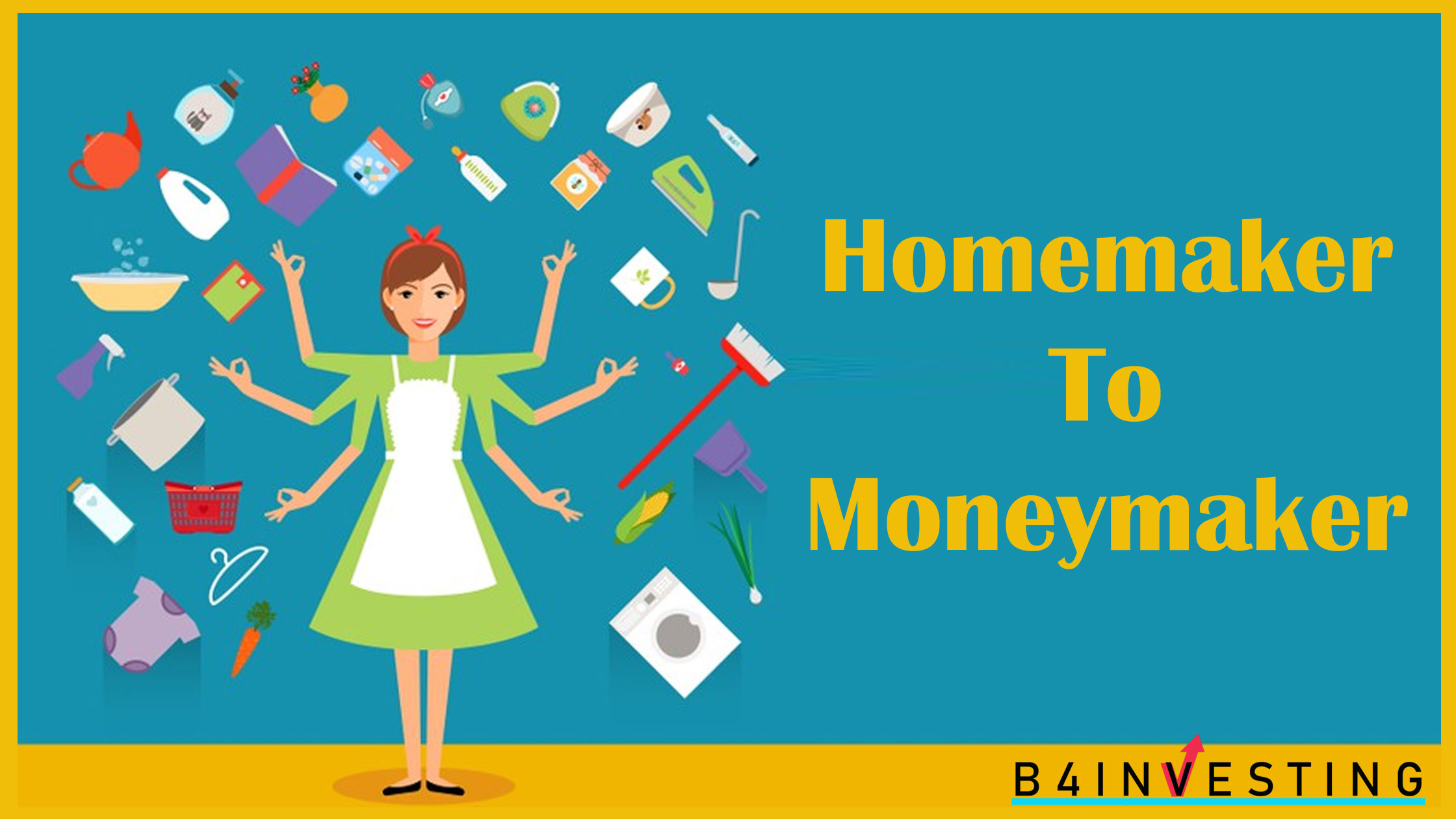 A Homemaker To a Money Maker
Only 'Saving' is not Enough!!
Being a homemaker is like being a Wonder Woman, who makes the life of all the members of the family easy, organized and tension-free by taking care of all the important as well as unimportant wants. They are also tagged as the best managers as they have skills for managing everybody and everything around, like Time, People or Work etc. When it comes to SAVING MONEY they are known to be more successful than their male counterparts, even when the BUDGET is tight. They are blessed with the inherit skill of Money Management.
As a homemaker you have certain amount of money circulating with you. You save small amounts from the family monthly budget which act as a cushion to fall back on in times of uncertainties and crisis.
"A woman's best protection is a little money of her own".

-Clare Boothe Luce
But now it's time to take a leap forward. You already know 'How to save' but now you have to learn 'Where to save'. Instead of, keeping the money idle in your cupboard or locker, opt for the options that can be more rewarding and increase your principal amount over a period of time. Doing this now is not as complicated as you think it to be.
We at 'b4investing' always believe that money should never be kept idle but invested in the best way possible and here we are educating our super woman's to do exactly the same.
'Saving' to 'Earning'
You have to start by budgeting and controlling household expenses so that you save more. Learning and exploring about the best investment plan available. Then, open a bank account (which is very easy job in present Indian scenario), accumulate funds and invest according to your preference. This will lead your saving to earning in the form of interest earned on the investment.
Post Demonetisation, none of the homemaker feel safe to keep the cash idle just like that. Financial independence is also a factor which should kept in mind. Achieving financial equality and independence is a major factor that makes a woman secure and ready to face the future. Remember, you are the best one to decide on your own financial planning process.
Nowadays, investing is very easy. You don't need to stand in queue somewhere for hours in order to open an account or do a lot of paperwork to start investing. The online platform is very easy and user friendly. By just using your smartphone you can start as well as manage your investment portfolio. In present times, you have:
Complete control over investment.
Ease of transaction.
Transparency in trading.
Online banking transaction.
Also Read:
'How' & 'Where' to Invest
Let us discuss about some of the most viable investment options for Homemakers:
Direct Equity
1. Investing in stock market by opening DEMAT account.
2. Building a portfolio that is of low risk and transparent.
3. Easy liquidation.
4. High returns.
5. High risk involved.
Mutual Fund
1. Investment for long-term wealth accumulation.
2. Small amount investment option through Systematic Investment Plan (SIP).
3. Term of investment as well as frequency of investment can be flexible.
4. Easy liquidation and redemption of the invested amount.
5. Rate of interest is 15%p.a. (approx)
Low risk involved.
Recurring Deposits
1. RD is offered by banks.
2. Flexibility in terms of choosing amount and tenure of investment (1 to 10 years).
3. Small deposits every month and earn good interest at maturity with no risk.
4. Interest earned is paid at the time of maturity with invested amount.
5. Rate of interest is 7%p.a.
Fixed Deposits
1. FD is offered by banks.
2. Flexibility in terms of choosing amount and tenure of investment (7 days to 10 years).
3. With no maximum limit of the investment with no risk.
4. The amount can withdrawn before maturity period, however if deposit broken before 5. maturity it effects the interest earned on the principal amount.
5. Rate of interest varies from bank to bank between 3%-7%p.a.
Post-Office Monthly Investment Scheme
1. Also known as Post-Office Fixed Deposit.
2. Regulated by Government of India.
3. Short-term investment, tenure of 5 years.
4. Monthly payment option with Minimum amount of investment Rs.1,500 and Maximum amount of investment Rs.4,50,000 (single account) and Rs.9,00,000 (joint account)Rate of interest 7.6%p.a.
5. No risk involved but pre-mature withdrawal effect the interest earned on principal amount.
Post-Office Time Deposit Scheme
1. One time deposit scheme that earns interest on the basis of the tenure.
Investment period is 1 to 5 years.
2. Good scheme for single mothers' to invest for child's education or healthcare.
3. The rate of interest is 7.7%p.a. which is calculated quarterly but paid annually.
4. No risk involved but withdrawal is not possible before maturity, except special circumstances.
Public Provident Fund
1. PPF is offered by the Government of India.
2. Small deposits of RS.500 onwards can be made according to convenience but maximum amount cannot exceed Rs.1,50,000.
3. Excellent option for long term investment, as it comes within a lock-in period of 15 years.
4. However, 50% of the amount can be withdrawn after completion of 5 years.
The rate of interest is 8%p.a.No risk involved.
National Saving Certificate
1. NSC is one of the safest investment options, offered by Post-Office.
2. Investment as low as Rs.100 onwards with no capping to maximum amount that can be invested.
3. Lock in period ranges between 5 to 10 years.
4. Withdrawal is not possible before maturity, except special circumstances.
Rate of interest is 8%p.a.
Kisan Vikas Patra
1. KVP is also offered by Post-Office.
2. The minimum amount of investment is Rs.1000 and there is no upper limit.
3. The maturity period is 124 months i.e. 10 years and 4 months.
4. Withdrawal is not possible before maturity, except special circumstances.
5. The rate of interest 6.9%p.a. but it enjoys maximum tax benefits.
6. No risk involved.
Gold
1. Good investment option for homemakers.
2. Flexibility in terms of amount of investment.(5 grams, 10 grams or more in certified gold coins).
3. Though the gold prices keep on fluctuating, it's a good investment for long-term investment.
4. After a certain period it can be exchanged for cash or converted into jewelry.
5. Involves certain degree of risk depending on the prevailing market conditions.
6. Rate of return depends upon the tenure of the investment and prevailing market conditions.
Read also: Where to invest for regular monthly or yearly income?
Depending upon the situation and future needs of the homemaker and her family, investment should be made in diversified plans not just depending on a single plan. Let us understand this with an example:
Mrs. K Adukia, 55 years old, a housewife from Jharkhand, gets a monthly budget of Rs.65,000 from her husband. She is able to save around Rs. 3000 to Rs. 5000 depending on her monthly expenditure. Earlier, she used to keep this savings in her cupboard safely locked-up. Then one day her daughter explained her benefits of investing her savings. She started a monthly SIP of Rs.1500 and saved the rest till she had a sufficient amount to save in options like FD, NSC or Gold. After sometime along with SIP she started a POMIS of Rs.1000 as well. So, now after a period of 3 years for her average saving of Rs.4000 per month she has a rate of return of 10%p.a.(approx), i.e.
4000*12= 48,000
48000*10%= 4,800
48,000+4,800=52,800
52,800*3=1,58,400
Earlier it was, 48,000*3=1,44,000
She is now saving Rs.14,400 more for 3 years.
This is how you can earn from your savings.
The Bottom Line
Homemakers are the best multitasker in mankind. They know no boundaries when it comes to love, care and dedication. So, why should they be bound when it comes to financial independence and security? Moreover, what they will save and invest will be used for the family in times of needs and crisis. But that does not take away from the fact that they are completely free to spend it wherever they wish because after all it is their earning.
A homemaker must become financially aware so that they have a financially secured future. It's not just the responsibility of the men of the house to secure the future of the family, you too as today's women should take an initiative. This will enhance the financial prosperity of the family. The key take-away is
Protect your growing wealth.
Don't just 'save' but start 'investing'.
Know your financial standing.
So, start your journey of financial independence. Read all basics of investment on b4investing and start investing.
Be Educated!
Be Careful!
But, Be Bold!!
Happy Investing!!!
FAQ
Can a housewife invest in share market?
Yes, with the help of internet, a housewife can read and take knowledge of share market. Or, a housewife can take advice from expert to invest in share market.