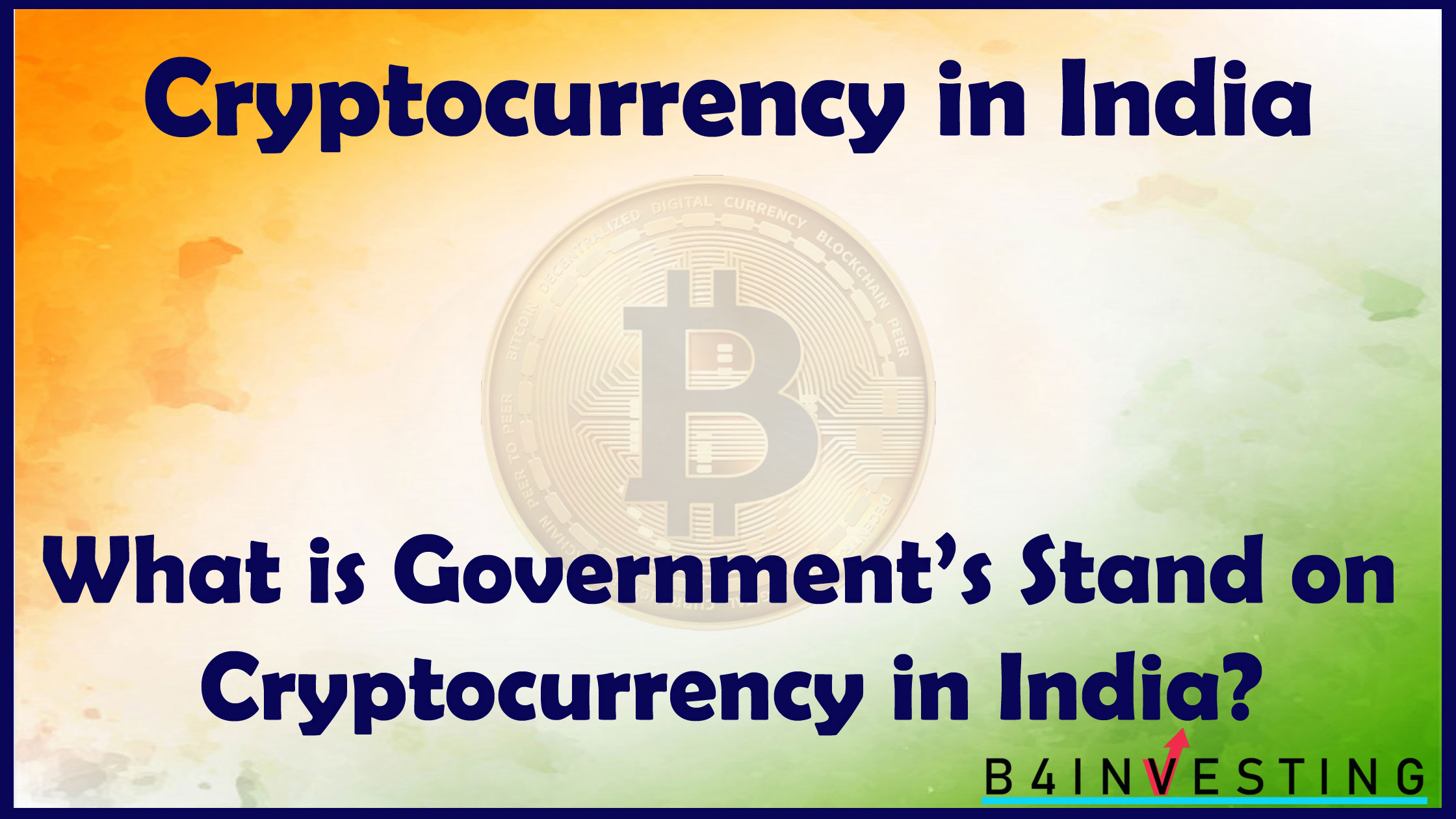 Cryptocurrencies in India: What is Government's Stand on Cryptocurrency?
India's take on Cryptocurrency
Despite the fact, that cryptocurrency was first introduced in world in 2009, but it has started gaining popularity in India from the last year. Around 7 million Indians have already invested over $1 billion into cryptocurrency. The Government has the uphill task of regulating the working of cryptocurrency and providing a space to flourish without compromising on the safety issues.
Government's Stand on Cryptocurrency
Cryptocurrency is not a legal tender in India, but if you want to buy a certain crypto like Bitcoin, Dogecoin, etc. you can trade in it. Though, India does not have regulatory proceedings to govern cryptocurrency till now.
The RBI, to protect the interest of the country, had virtually banned crypto trading in India through its circular issued on April 6, 2018, according to this they laid prohibition on trade of cryptocurrency on domestic exchanges. However, the Supreme Court in 2020 quashed the order by the RBI that banned trading in virtually currency.
The cryptocurrency industry has had a second wind in India since last year, after the Supreme Court lifted ban on dealing with assets in 2020. In spite of all this, Indian Government has issued repeated warnings over investing in cryptocurrency, claiming it to be like Ponzi scheme that offers unusually high returns to early investors.
They have prepared a draft bill that will prohibit mining, holding, selling, trade, issuance, disposal or use of cryptocurrency in India. Under this draft bill, the above mentioned acts can be punished with a fine or imprisonment up to 10 years, or both in some cases. Although that draft bill did not make it to the parliament floor, there is news suggesting that the government is drafting a new bill for cryptocurrency trading.
Also Read: What is Cryptocurrency Mining, Cryptocurrency Wallet? Pros n Cons of Cryptocurrency
Current Scenario
Cryptocurrency is unregulated in India. This has led to confusion among customers, businesses and banking services providers. The industry has mostly faced regulatory flip-flops. Finance minister has indicated a calibrated approach and experimentation with blockchain. The RBI has also expressed their concerns over it.
The Ministry of Corporate Affairs has asked the companies to disclose their investments in cryptocurrency, along with source of funds and profit or loss earned through these transactions. Even though there is currently a lack of clarity over the tax status of cryptocurrency, the chairman of the Central Board of Direct Taxation has said that anyone making profits from crypto will have to pay taxes. Other Income Tax Department has suggested that this profit should be taxed as capital gain. Indian government has stated that it is open to exploring the potential blockchain technology to enhance its financial services industry.
Also Read: What is Crypto Currency and How to Invest in Crypto? Top 10 Crypto Currencies
How to Trade in Cryptocurrency in India?
There are a number of crypto exchange platforms that have made it very easy to trade cryptocurrency. Unlike the stock exchange, these platforms operate through out the day 24*7. This means investing, trading and withdrawing is possible on any day at any time.
The entire process of buying and selling is very easy involving easy steps, as follows:
Install the app on your smartphone.
Sign up on it.
Complete your Know Your Costumer (KYC) details.
Transfer money into your wallet.
Make a purchase, which can be as low as Rs.100.
Proportionate value of crypto currency will be added to you crypto wallet which can be a fraction of a coin or a number of coins.
A pre-decided limit for trading can also be set up.
Some of popular Indian exchange platforms are:
Coinswitch Kuber
Zebpay
CoinDCX GO
Investors can also trade through international platforms like: Coinbase or Binance.
There is no limit on the amount of the transaction. The transaction is completed as soon as the amount is transferred to the wallet.
Read also: A Beginners Guide to Systematic Investment Plan
The backslash
Despite the Supreme Court ruling, several large banks have refused to work with crypto exchanges. They have also closed the business accounts of the exchanges and ordered them to stop processing any such transactions. Some of the customers and intermediaries were also warned. Due to the lack of infrastructure especially banking system the platforms are not able to work properly. The platforms are integrating with new banks every week as the existing ones stop working. This industry is at a budding state in India, so the platforms are always facing some or the other problem like inability to execute orders, server crashes, etc. UPI transactions are still not working for these platforms.
The lack of regulatory setup to govern cryptocurrency leads to a scope for frauds and scams. This discourages many keen investors from placing their bets on it. There are some other risks as well like exposure to hacking, permanent loss due to forgotten password, malware attacks, etc. in case the government goes for a complete ban on decentralized virtual currency, investors in the country could face huge losses. However, experts and analysts feel that regulating the trading would be a better option, considering that it is an emerging assets of the financial world.
The Bottom Line
Practically, cryptocurrency prices vary hugely day to day that resembles gambling and not a currency. Theoretically, it is just like any other legal tender used for trading. But, majority of cryptocurrency transactions are done by money launderers and drug dealers due to its encrypted anonymity. This is the reason many countries have banned or limited its use. Governments do not like the idea of private currency beyond their control. They will make it probably very expensive to deal in. this is a major risk for investors.
According to an article in Economic Times, "Cryptocurrency exchange WazirX user sign-ups increase by almost 5000% since March 2020. The trading volume has jumped to $6.2billion as of May 2021, from $8.9 million in March last year." More than 12 million Indians majority under 30- are trading in crypto platforms.
The RBI have issued a clarification around crypto trading, informing banks that they cannot warn customers against trading, using the older order of RBI. This has come as a relief for the crypto market which has been dealing with uncertainty and confusion. This statement came as response to the warning issued by banks asking the customers not to invest citing an old order.
According to our understanding at "b4investing", here are the five key take away from RBI clarification:
Soft stance of India on Cryptocurrency
Transactions can become easier
Vote of confidence
Utmost attention and care needs to be taken
New beginning to financial structure
Cryptocurrency's future in India will be established by the Cryptocurrency and Regulation of Official Digital Currency Bill, 2021, that shall be tabled in parliament monsoon session 2021. Time will tell whether it is huge democratization of wealth, helping youth to defeat old wealth creation ideas and trading in such tenders to become big. Or this is another Ponzi scheme that is highly misunderstood today.
Be Educated!
Be Careful!!
But, Be Bold!!!
Happy Investing!!!
Also Read: Strength of Currency
FAQ
Is cryptocurrency legal in India?
Investing in cryptocurrency is legal in India. Only, cryptocurrencies are not regulated in India. RBI imposed ban on banks from facilitating cryptocurrency transaction in 2018.
Can you shop online using cryptocurrency?
No, not in India. No company or ecommerce website allow cryptocurrency for shopping.
Can somebody be trapped in fraud by trading cryptocurrency?
Yes, cryptocurrency is not regulated in India. So, anyone can make virtual coin and start selling it. So, investor has to be careful to select a cryptocurrency and platform for trading.
Can cryptocurrency replace government issued currency?
Its very difficult to predict future but chances are very less. Government will take more control over cryptocurrencies and introduce new regulations.
Can cryptocurrencies be converted to rupee?
Yes, any cryptocurrency can be converted into rupee using exchange platform.
Why do prices of cryptocurrency fluctuate?
Cryptocurrency market works like stock market. So, it goes up and down. Cryptocurrency market is more volatile.
Why was cryptocurrency created?
The idea behind creating cryptocurrency was to reduce dependency on banks and government