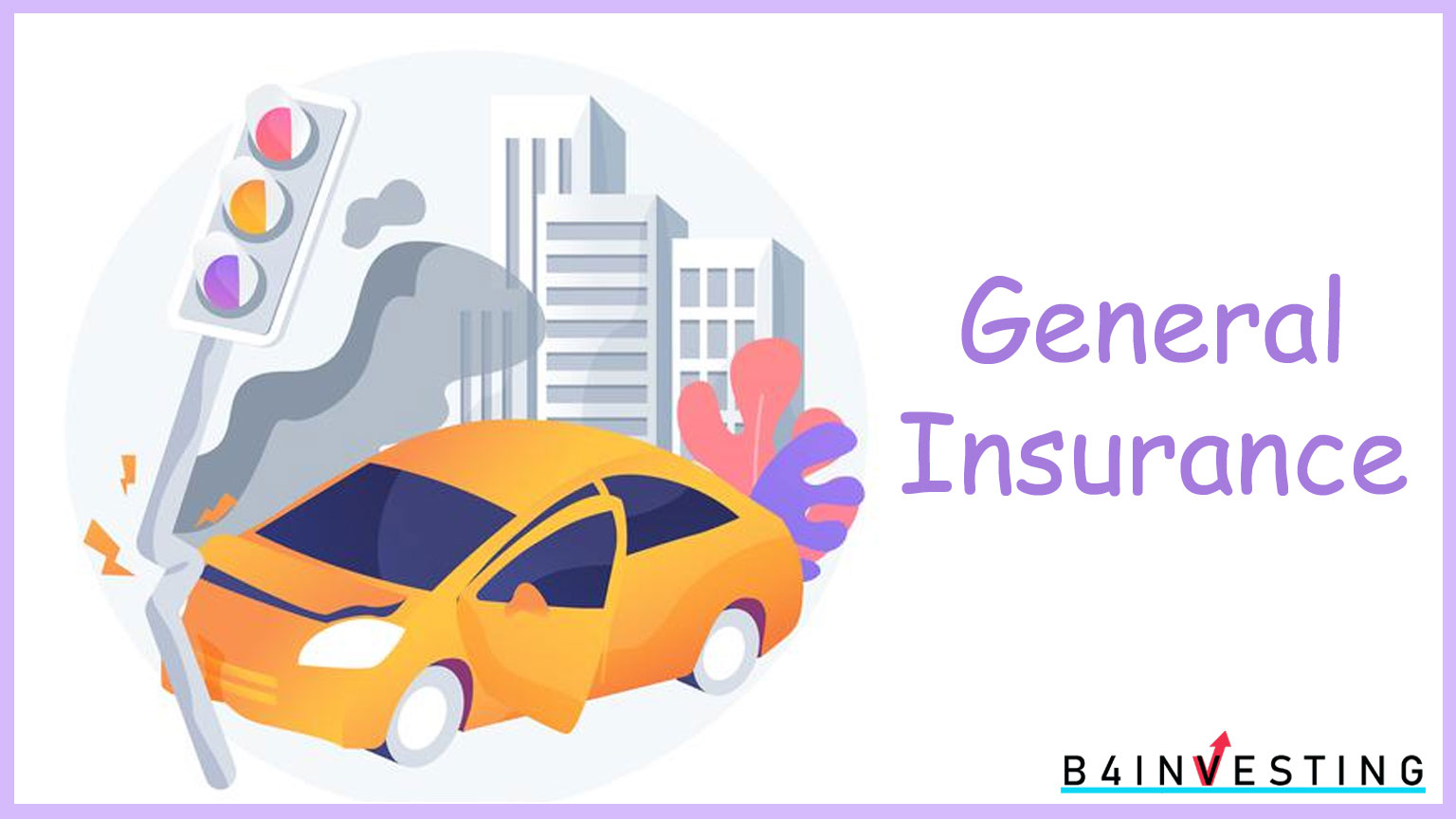 What is General Insurance? 5 Different types of General Insurance
Life is full of the unexpected events. Though this surprise element makes life thrilling and interesting, some unprecedented events can take you for a tumultuous ride and land you in a financial mess. To tide over such circumstances, general insurance comes to your rescue and acts as a shock absorber during such times. It compensates for the damage or loss that has occurred to your valuables due to unforeseen circumstances.
What is General Insurance?
Insurance that does not come under the ambit of Life insurance is called General Insurance. It is a common term used for all other insurance plans except life insurance that are instrumental in safeguarding your valuables against theft, fire, natural disasters, accidents, etc. Premiums are to be paid at regular intervals for the amount of protection chosen by the individual. In the event of any damage or loss to the insured entity, the insurance company is then liable to pay you the assured sum.
General insurance helps to protect ourselves and the things we value such as our homes, offices, our vehicles, jewellery and other valuables from the financial impact of risks and even from the costs of legal action against us.
Difference between Life Insurance and General Insurance:
Duration of the policy: The duration of Life insurance is long term, i.e., it is issued for life time or until the time of the maturity period. Whereas, the duration of General insurance is short term, usually for one year and it has to be renewed after that.
Premium payments: In case of life insurance, usually a fixed amount is paid annually for a specific period, say 10 or 20 years. In general insurance, the entire premium is paid at one go while purchasing the policy.
Maturity benefits: Life insurance policy can be considered as an investment option as it has a saving factor inclusive in the policy. In addition to the insurance coverage it offers, it also offers maturity benefits after specific tenures in the form of bonus. But general insurance does not give any maturity benefit, but only gives a payout amount in the case of loss due to unfortunate events that occur within the policy validity period.
Payment of claims: In the case of life insurance, the benefits and the sum assured is paid on the maturity of the policy or in the event of the policy holder's death to the nominee. While in the case of general insurance, the claim or the actual loss amount is compensated only when a specific unfortunate event occurs, as per the terms and conditions of the policy.
---
Also Read:
---
How does General Insurance work?
General insurance applies to a large group of people who may suffer the same unexpected risks in similar conditions or region. The money collected as premium from the policyholders is clubbed together into a pool of funds, and if anyone faces an unexpected loss, the compensation is paid to that person from this pool.
Types of General Insurance Policies in India:
In India, general insurance is broadly classified into health insurance, motor insurance, home insurance and travel insurance. There are also other types such as marine insurance and commercial insurance. In this article, the main focus is on home, motor, travel and marine insurance.
Home Insurance:
Home is a very valuable asset to everyone as it also has a lot of sentimental value attached to it. Hence, it is very important to secure your home with a proper home insurance policy.
Home insurance protects your home and its belongings/contents against damages or loss due to man-made calamities such as theft, riots, fire, etc., and natural calamities such as earthquakes, floods, tsunamis, storms, etc. Some insurance policies also cover temporary living expenses if your home is being renovated.
A comprehensive policy will cover both the structure and belongings of your home. The premiums will vary depending upon the type of policy selected, the location of your home, age of the house (whether old or newly constructed), coverage amount, etc.
To illustrate this, let's say that a property is located in a prime location. In this case, the premium to be paid would be high. Also, for a newly constructed house, a higher premium will have to be paid when compared to an old house.
Motor Insurance:
As per the Motor Vehicles Act, 1988, it is mandatory that vehicle owners, be it two-wheeler or four-wheeler owners, should have at least a third-party insurance. It is a compulsory legal requirement to drive a vehicle in India.
Motor insurance provides coverage for your vehicle against damage, accidents, vandalism, theft, etc. Basically, there are two types of motor insurance:
A) Third-Party Liability: This type of policy covers for losses caused in a situation where your vehicle damages any third-party such as public property, person or third-party vehicle. It should be noted that this does not provide liability cover for any of your own vehicle's damages. Third-Party policies have a lower premium when compared to the Comprehensive Package Policy.
B) Comprehensive Package Policy: A comprehensive policy safeguards your own vehicle against natural calamities and fire, theft, damage due to accident, etc. and also covers your hospitalization costs in case of an accident, in addition to providing coverage against third-party liability such as third-party property damage, accident or death. Obviously, the premium for this high due to the wide coverage it offers.
In Motor insurance, the amount of premium to be paid is determined by factors such as age of the vehicle, type of policy, make, model and variant of the vehicle, registration location, etc.
To illustrate this, a person owning a brand new, high-end car such as Mercedes or BMW with a metro-city registration such as Mumbai will have to pay a much higher premium when compared to a person owning an old, Maruti car in a non-metro city like Coimbatore.
Travel Insurance:
Travel insurance covers your financial losses, if any, for your travel within India and abroad. Losses may arise due to medical or non-medical emergencies. It has a host of coverage such as compensation in case of loss of baggage, loss of valuables, loss of passport, missed flight, trip cancellation, medical expenses, accidental deaths, etc. Travel insurance may also offer cashless hospitalisation if you are hospitalised while travelling.
If you are a frequent traveller or love to go on annual international trips, you should definitely think of buying travel insurance because it may come to your rescue if any untoward events or unprecedented emergencies occur during your travel, especially when being in a foreign country where you will have no one to lean to.
There are different types of insurance plans such as international travel insurance plans, domestic travel insurance plans, senior citizen travel insurance plans, single-trip policies, student travel insurance plans, etc.
The amount of premium to be paid will be determined by factors such as the travel destination, age of the traveller, trip duration, the sum insured, coverage features, medical history, etc.
To illustrate this, a person travelling to developed countries such as USA, UK and Australia will have to pay a higher premium when compared to a person travelling to countries like Thailand, Maldives, etc. Likewise, a senior citizen suffering from a medical condition will have to shell out a higher premium than a young and healthy individual. Also, longer the trip duration, higher will be the premium and vice-versa.
Marine Insurance:
Marine insurance is a type of insurance policy in which coverage is provided against loss or damage caused to ships, cargo vessels, terminals, etc., in which goods are transported from one point to another (origin to destination). It includes loss or damage caused to the shipment/cargo/ship while it is anchored and also from unprecedented calamities like sinking, collision, burning, navigation errors, bad weather conditions, theft, natural calamities, war, etc. during sailing. Marine insurance protects the shipowner from heavy financial losses that may occur to the ship and cargo due to the above reasons.
Some of the types of Marine insurance policy are Marine Cargo Insurance, Freight insurance, Hull insurance and Liability insurance.
Commercial Insurance:
The type of insurance that helps to protect businesses against risks that could affect their success is called commercial insurance. Examples of this type of insurance are:
Property Insurance
General Liability
Engineering Insurance
Business interruption Insurance