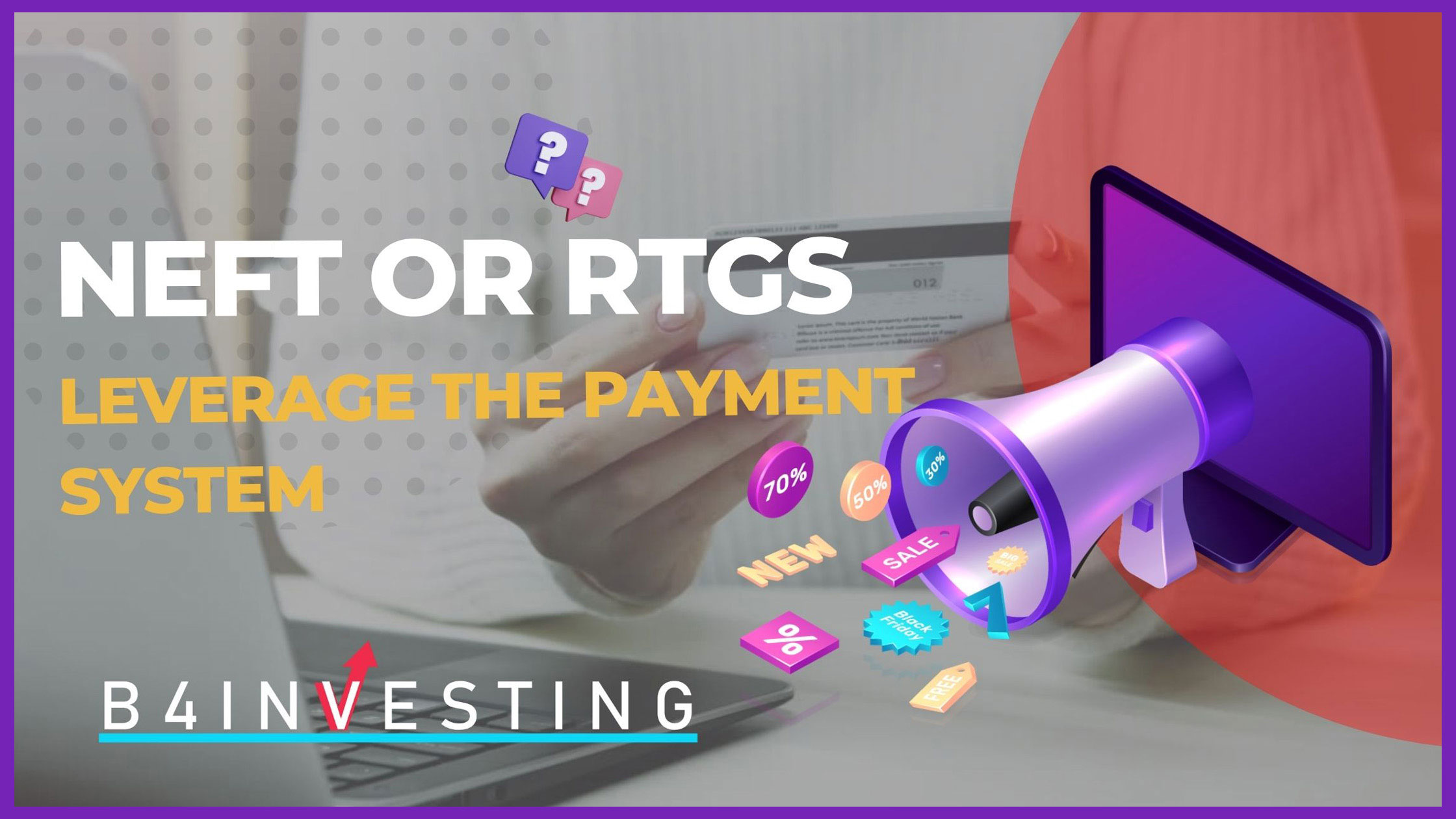 RTGS Vs NEFT: Choose The Right Payment Method for your Transaction
In this article, we highlighted the key differences and similarities between the NEFT(National Electronic Funds Transfer) and RTGS(Real Time Gross Settlement), in order to help you understand the working of the payment systems, and gain knowledge about the IFSC(Indian Financial System Code) codes for the two systems (RTGS and NEFT) to speed up the fund transfer process.

Why is NEFT preferred over RTGS?
Banks prefer NEFT as it saves the hassle of the waiting period and can be helpful in making smaller transactions without having customers to even step outside your home. NEFT and RTGS are used to make transfers between bank accounts. NEFT has no minimum or maximum limit on the amount to be transferred but RTGS transactions have limit. RTGS can only be performed if the amount to be transferred is equal to or more than Rs. 2 lakh. NEFT transactions take around 2 hours to be processed, while RTGS transactions are processed immediately in real time. The most common use of NEFT is to transfer funds online to accounts of government and private organizations.
Difference between NEFT and RTGS

RTGS: An electronic payment system in which payment instructions between banks are processed and settled individually and continuously, on a real-time basis.
NEFT: NEFT is a 24*7 available service of funds transfer wherein the transaction gets processed in batches of half an hour.
NEFT Advantages compared to RTGS
For initiating transactions of large sums of money in real-time, RTGS is the right option for you. Conversely, if you have to transfer smaller amounts without any time constraints of clearance, NEFT is the better option. After reading the article, you will be equipped with the information such as listed below;
Understand the set of rules for NEFT and RTGS.
Know the RTGS and NEFT charges, usage, and key advantages.
PROCESS OF TRANSACTION WITHOUT THE BANK'S INTERVENTION
Banks are no longer needed for NEFT, IMPS, or RTGS; Google Pay, PhonePe & Other Fintech firms can do them now. To remit funds to the Inter-Bank Payee through RTGS / NEFT select the 'Inter-Bank Transfer' link in the 'Payments/Transfers' tab. Select the Transaction Type – RTGS or NEFT. The list of beneficiary accounts added is displayed. Enter the amount and select the beneficiary to be credited from the list. It is as simple as that. It helps you to save your money and diligent efforts to go to the bank physically to make a transaction.
IFSC code is used for the electronic payment applications NEFT and RTGS.
IFSC(Indian Financial System Code) consists of eleven characters and this code has been assigned by Reserve Bank of India(RBI) for the identification of the bank branches. IFSC code is very important for carrying out the electronic payments in the country.
The components of this alpha numeric code are:-
1. First four characters denote the code of Bank.
2. The fifth character is a '0' and this used as a control character
3. Remaining six characters define the specific branch of the bank.
The reasons why NEFT is considered to be better than RTGS:
Some factors such as the amount of money that can be transacted, time duration, charges levied, and the waiting period makes or breaks the deal. Depending on the payee or the payer, both the payment systems are evaluated as below;
Key features of NEFT and RTGS:
● Transfer of small amounts of money without any immediate requirement favours NEFT transfer.
● NEFT is based on Net settlement
RTGS
NEFT
Real-time Gross Settlement.
It is based on net settlement.
Best for a larger sum of money.
Best for initiation smaller amount of money.
The transfer is not subjected to the waiting
period.
The transfer is taken place after some
waiting period.

Conclusion:
Money transfers are faster and more secure when done through RTGS / NEFT rather than through the standard Bank Transfer. You can remit various funds through NEFT and RTGS to the Inter-Bank payee. The process of NEFT and RTGS is quite a cakewalk and can be done online with basic information.
Read more finance how-to guides and blogs on b4investing.com on Finance, Current Affairs, Economics, and much more knowledgeable topics.