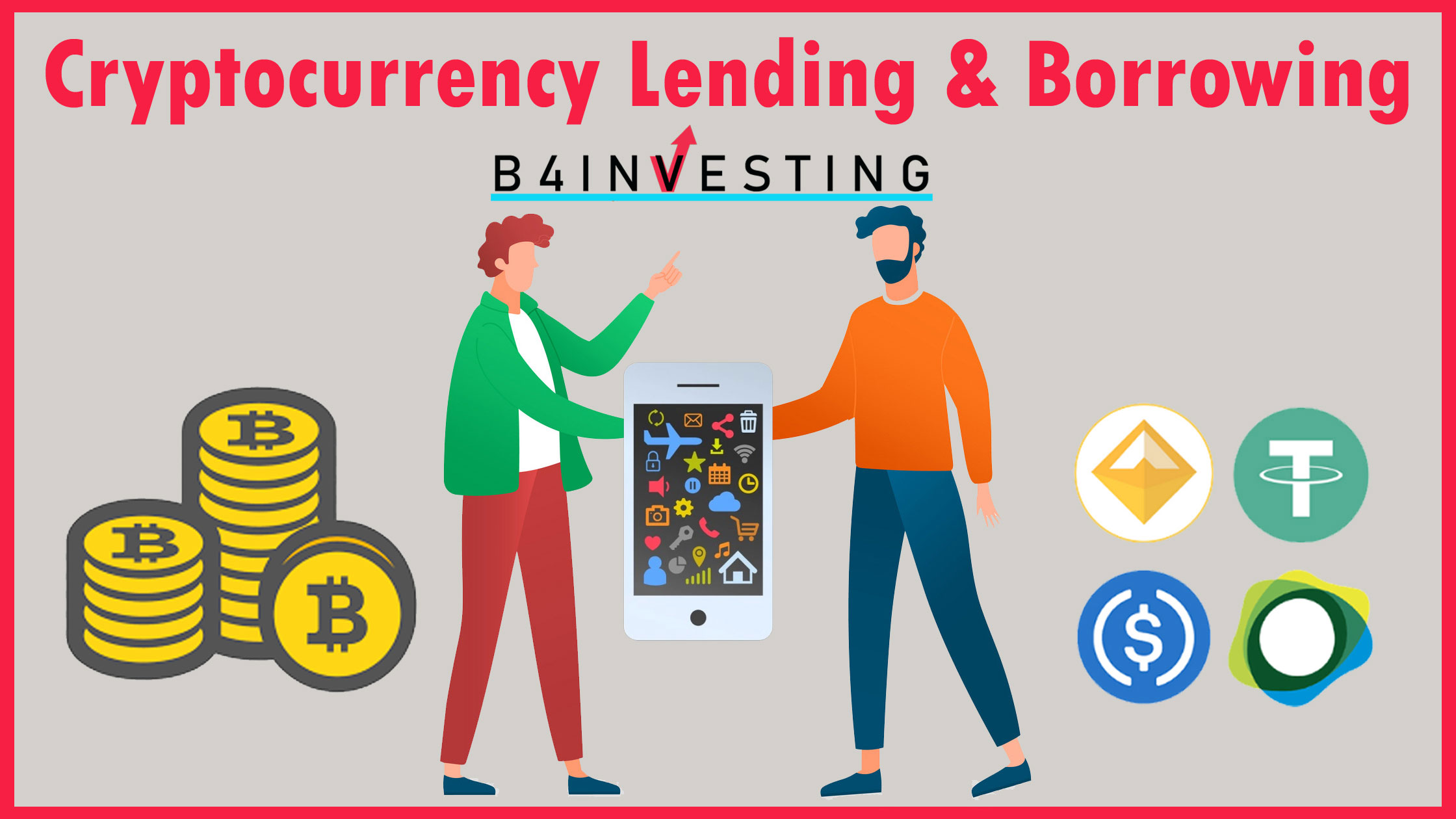 Cryptocurrency Lending & Borrowing
Many people need loan in life for different reasons like to buy a house, to start or expand a business, for children's education or marriage, for medical emergencies, etc. Generally we see people taking loan from bank and pay it back through paying EMI (Equated Monthly Instalments).
In old times, people used to keep gold ornaments or property with money lenders and take loan against it. This is known as asset-backed loan. Now also, people take loan against loan or property from bank. The amount of loan paid is related to value of gold or property. Gold and property remain with the lender or bank until complete repayment of loan amount.
Now a days, you can take loan on cryptocurrency. Lets first read what is cryptocurrency. Cryptocurrency is a type of digital currency that can be used as a means of payment to purchase goods and services. Cryptocurrency servers the purpose of ordinary money like dollars, pounds, rupees, etc. but does not have a physical form like banknotes or coins. Cryptocurrency is a new form of digital money.
Bitcoins, Ethereum, Ripple, Dogecoin are few known cryptocurrencies. India has more cryptocurrency holders than any other country, i.e., more than 100 million. Yes, in India, more than 10 crore people own cryptocurrencies. Popularity of cryptocurrency is increasing day be day due to its high return. In 2010, one bitcoin was costing about $0.08 and now price of bitcoin is $59,172.10. No other investment has given such return in decade time. So, more and more people are trying to invest in bitcoin or other cryptocurrencies.
Few investors invest in cryptocurrency for short term to gain short term gain and few keep cryptocurrency for long term thinking it has a great future. But not everyone knows that cryptocurrency is a good option for investment because of one more reason. Ans that is, Investor can stay invested in cryptocurrency and gain more value with crypto lending.
What is crypto lending?
Crypto lending refers to decentralized Crypto finance which allows crypto investors to borrow loans in cash or stable coins or cryptos by offering their owned cryptocurrencies as collateral. Investors can lend cryptocurrencies and can earn interest payments in exchange which is also known as crypto dividends. So, along with being method of payment, cryptocurrency can become a good option of investment because of crypto lending. Cryptocurrency lending allows investors to get more value for cryptocurrencies while holding them without plans of selling.
Let's understand this by example, suppose you have 5 bitcoins in wallet and you can lend these bitcoins on crypto lending platform to earn passive income. You receive weekly or monthly interest in return. The interest rates paid depend on the platform you are using. It can be 3% to 7%, or it can be up to 15%-17% in some cases.
Borrower can take loan by using crypto as collateral. If the borrower cannot repay the loan amount with interest, then lenders can sell bitcoins and recover loss.
Read also: Reasons to Invest in Cryptocurrency
How does cryptocurrency lending work?
Lenders and borrowers are connected through a third party, usually an online crypto lending platform in cryptocurrency financing. For cryptocurrency's loans, there have to be three parties involved:
Lenders: who want to lend cryptos, stablecoins or cash and earn passive income from their crypto investments.
Borrowers: who want funds for varied purposes and should use crypto or fiat assets as collateral to get fund.
Lending platforms: third-party platforms that connect borrowers and lenders and take care of these transactions. These can be autonomous, decentralised, or centralised platforms (a group of people or companies operating the platform).
Step-by-step process involved in lending and borrowing of cryptocurrency:
The borrower goes to a lending platform to request a crypto loan.
The borrower will offer some crypto as collateral for the loan. Once the lending platform accepts their loan request, borrower cannot get the staked crypto back until they pay back the entire loan amount to the platform.
The investors(lenders) fund the loan. Usually, this process is invisible for investors for whom the balance of crypto on their accounts will be unchanged.
Investors(lenders) receive their share of interest payments regularly as per the decided intervals.
Once the borrower paid back the loan, he received back his crypto collateral.
Every lending platform has different rules and rates, but the process is the same on every lending platform.
What are the types of crypto-lending platforms?
There are two types of lending platforms, as mentioned below:
Automated platforms give you dividends as soon as you deposit assets in your crypto wallet.
Manual platforms require the investor to manually stake (block for a certain amount of time) a certain amount of your crypto assets to generate dividends.
What do you need to get a Crypto Loan?
You dont need to do go through a long process which you have to do for normal loan. When you are taking a crypto loan, no one will check your credit score or income slip. The amount of loan you will receive will depend upon the amount of crypto collateral you will be allowed to use. The loan-to-value (LTV) ratio is applicable.
The loan-to-value(LTV) ratio refers to the amount of the loan and then the collateral's value. Suppose, if you put up $10,000 in crypto as collateral and the loan you receive is $5,000, the LTV ratio is 50%. Crypto loans usually come with very low LTV ratios due to the volatility of the crypto markets.
Read also: Tax on Cryptocurrency Investment in India
What are the pros and cons involved in cryptocurrency loans?
Advantages:
You don't need to open a bank account, no one will ask about your credit score, or consider your income. So, crypto lending is easily accessible to everyone.
On automated lending platforms, the process of earning dividends is fully automated and don't require any effort
Cryptocurrency borrowing rates are low like in the single digit compared to other credit card or unsecured loans rates.
For borrowers there is no credit check.
The funding of a loan is faster (usually it takes few hours to a day to receive your borrowed amount).
Disadvantages:
When we talk about crypto, everything is digital. So, there can be a risk of any technical problem in the protocol or any hacker taking control of the protocol.
Security of lending platform is an increasing concern for crypto lending, especially with the rising cases of crypto theft.
You will have to add your crypto on an online digital wallet, which is less secure than storing your crypto on a physical wallet (e.g. Ledger).
Crypto assets can be super volatile
Takeaway:
If you are willing to invest in cryptocurrency and want to grow your investment then crypto lending is a good option. Ans if you want to grow your business and want funding for that then also crypto lending is a good option. You can take loan on cryptocurrency which you are owning.
Vauld, Crypto.com and BlockFi are some of the platforms that allow Indian borrowers to avail credit against their crypto holdings.