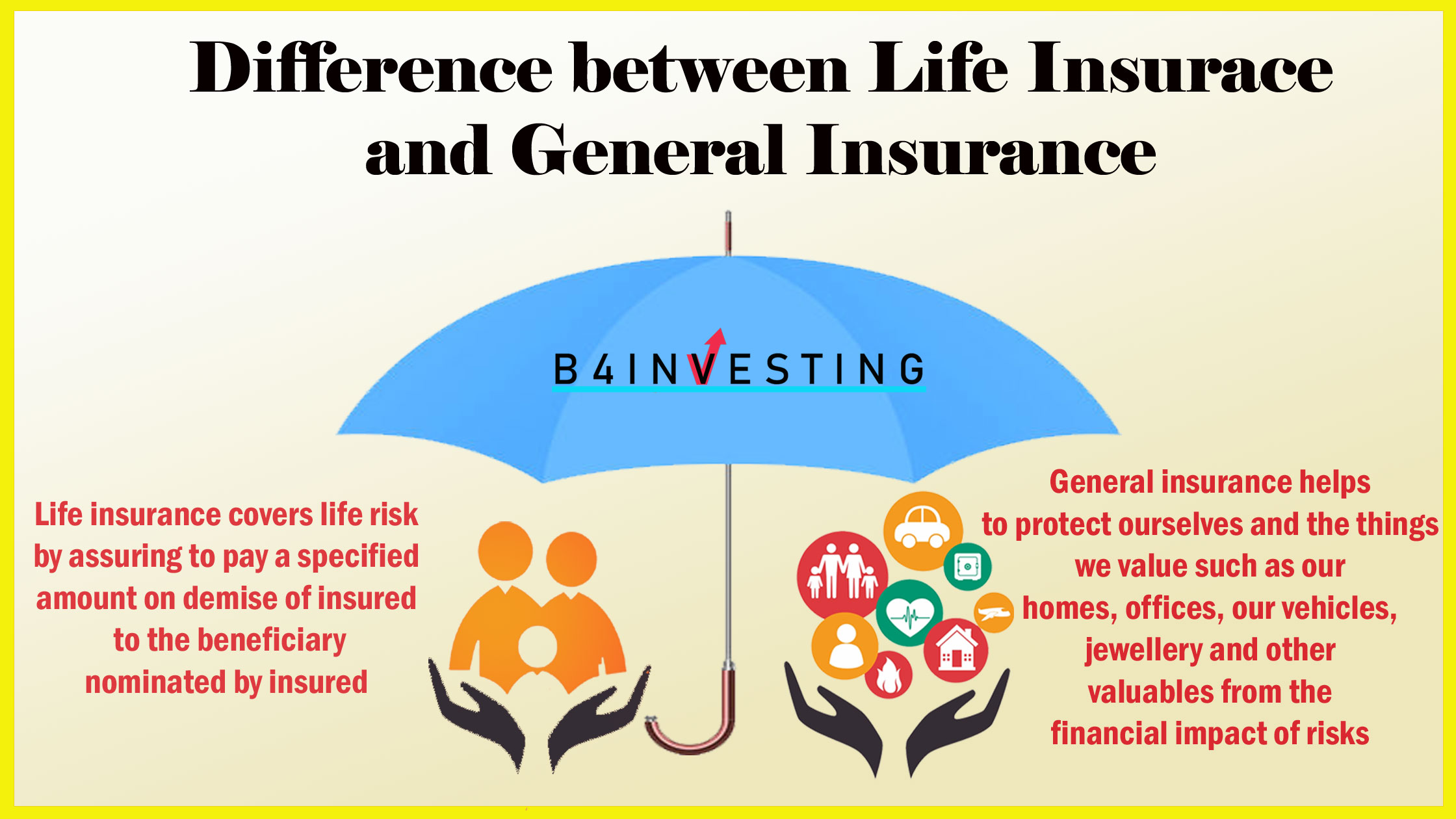 Life Insurance vs General Insurance
Insurance is something which people buy to protect themselves from losing money. Insurance is divided into two broad categories, life insurance, general insurance. Both are important types of insurance but different from each other. Let us first understand both life insurance and general insurance.
What is life insurance?
Its very important to secure future of your loved ones who are dependent on you. They should have enough money to continue their lives in your absence. So, life insurance should be your first choice. Life insurance covers life risk by assuring to pay a specified amount on death. It is a contract between the insured and the insurer(insurance company) where the beneficiary nominated by insured receives a certain amount in the event of demise of life of insured person in exchange for premiums. However, some life insurance policies also offer maturity benefits, i.e. a certain sum of money would be paid if the life insured survives the entire policy tenure as a maturity benefit.
What is general insurance?
Insurance that does not come under the ambit of Life insurance is called General Insurance. It is a common term used for all other insurance plans except life insurance that are instrumental in safeguarding your valuables against theft, fire, natural disasters, accidents, etc. Premiums are to be paid at regular intervals for the amount of protection chosen by the individual. In the event of any damage or loss to the insured entity, the insurance company is then liable to pay you the assured sum.
General insurance helps to protect ourselves and the things we value such as our homes, offices, our vehicles, jewellery and other valuables from the financial impact of risks and even from the costs of legal action against us.
What is the difference between life insurance and general insurance?
We understood what is life insurance and what is general insurance. Lets read the difference in following table.
| | | |
| --- | --- | --- |
| | Life Insurance | General Insurance |
| Meaning | It is an insurance contract, which covers the life-risk of the person insured. | It is a common term used for all other insurance plans except life insurance |
| Form of coverage | Life insurance acts as a form of investment for the future financial security of the policyholder's family after his demise. | General insurance is an indemnity contract that compensates for any loss or damage. |
| Coverage | Life insurance is an agreement between the insurance company and policyholder to cover the risk of life. | General insurance includes all other types of insurance which cover anything other than life, such as health, motor, property, travel etc.,. |
| Duration of the policy | Life insurance is a long-term contract which provides coverage for several years. | Most general insurance plans are short-term contracts which need to be renewed annually for continuous coverage. |
| Premium payments | In case of life insurance, usually a fixed amount is paid annually for a specific period, say 10 or 20 years. | In general insurance, the entire premium is paid at one go while purchasing the policy. |
| Compensation | In life insurance, compensation(sum assured) depends on the coverage chosen and the total premium paid. It is paid after the demise of policy holder. Few policies pay certain sum of money if policy holder survives the entire policy tenure as a maturity benefit. | In general insurance, the compensation amount(sum insured) is paid after the actual loss subject to the policy limit as per the terms and conditions. |
| Beneficiary | In life insurance, the beneficiary is the person nominated by the policyholder who will receive the benefit of the claim. Usually, it is spouse or children. | In general insurance, the beneficiary is the policyholder himself, who receives the claim. |
| Savings | Some life insurance plans may provide a savings component to create a corpus for the future. | General insurance plans do not offer such saving element as there are no maturity benefits attached with it. |
| Tax Benefits | The annualised premium paid towards a life insurance plan is tax-free under section 80C upto INR 1.5 lakhs per year. | Tax benefits are not available for most general insurance plans, except health insurance. You can get a benefit upto INR 25,000 for a premium paid towards a health plan for self, spouse and children and an additional amount for a premium paid for dependent parents. |
Difference between life insurance and general insurance
Read more: Unit Linked Insurance Plan or ULIP
Takeaway:
When it comes to financial planning, there are lot of options available to invest in. Insurance is must in todays world. Life is full of risk and insurance is an instrument which can help you financially in difficult time of life. You can cover loss occurred due to accident with your vehicle or property. When a earning member of family dies, the life insurance helps family financially so the marriages, education, medical expenses, day to day expenses don't stop. Many options are available in market. Select wisely.