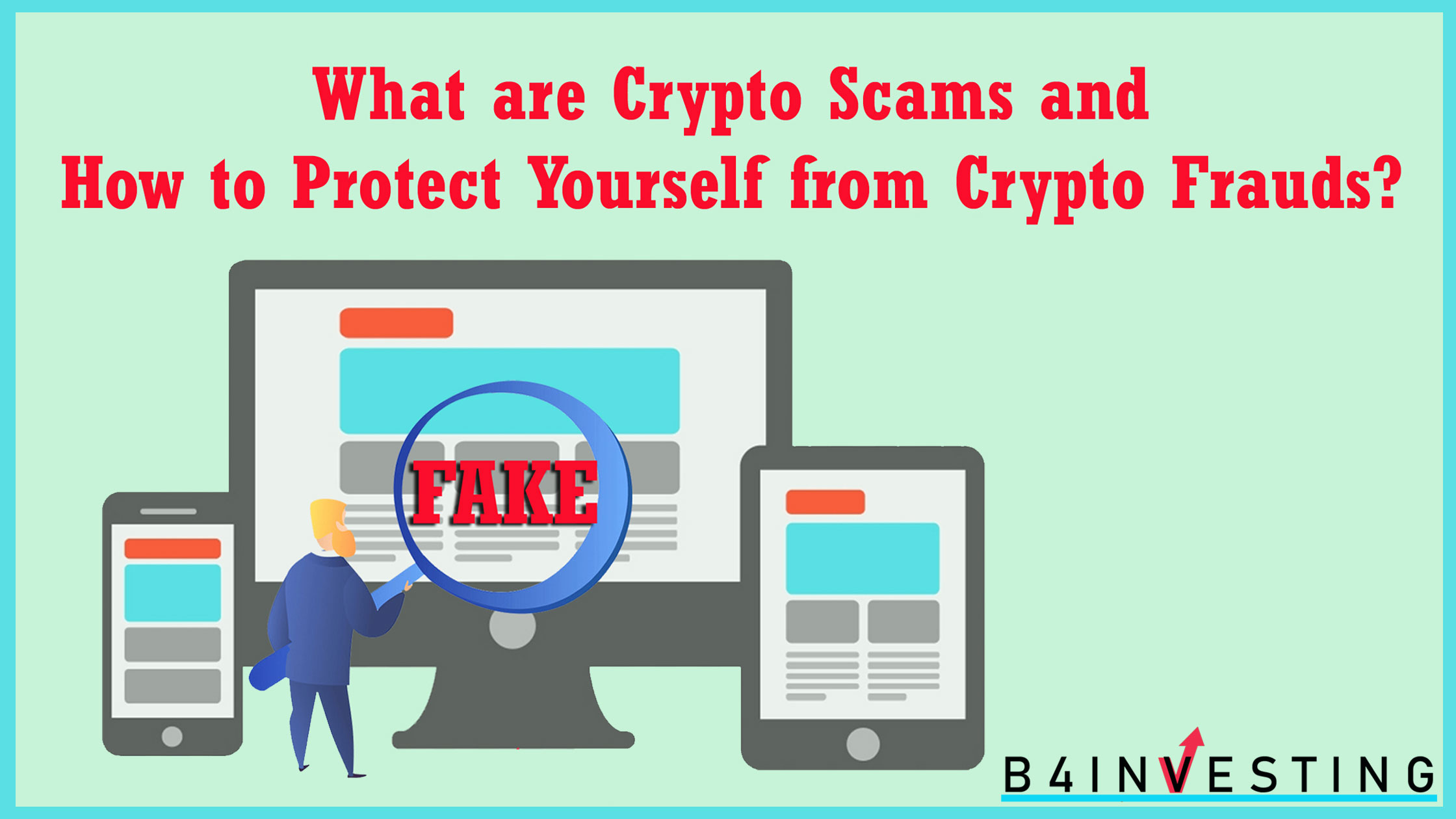 What are Crypto Scams and How to Protect Yourself from Crypto Frauds?

Popularity of cryptocurrency is increasing day be day due to its high return. In 2010, one bitcoin was costing about $0.08 and now price of bitcoin is $59,172.10. No other investment has given such return in decade time. So, more and more people are trying to invest in bitcoin or other cryptocurrencies.
The value of standard currencies such as Indian Rupees is guaranteed by central back of country, RBI. But, cryptocurrencies are not backed by any government. Cryptocurrencies work on peer to peer networks. Cryptocurrencies can be exchanged for goods and services worldwide.
Bitcoin is the most popular cryptocurrency. Bitcoin uses transactions which are verified by a network using cryptography. These transactions are recorded in a publicly available ledger known as a blockchain.
Though cryptocurrency or bitcoin gives high return, its not that it cant be scammed. And, blockchain used by bitcoin is a digital ledger, where funds once transferred cannot be retrieved. Japanese cryptocurrency exchange BITPoint, for example, lost $4.26 million in July 2019. So, cybercriminals can target individual users too.
Also Read:
Following are some of risks associated with using cryptocurrencies:
Susceptible to hacks: The wallet data stored by exchanges to operate the users ID can be hacked giving access to a large number of accounts. Most exchanges are highly secure but there are incidents reported of hacking and stealing of cryptocurrency.
No refund: In case of any conflicts between the parties involved or if somebody sends funds to a wrong wallet address the coins cannot be recovered. The lack of refund policy makes it easier to fraud people. The gained attention on cryptocurrency has also attracted many scammers.
Susceptible to hacks: The cryptocurrency wallet data stored by exchanges to operate the users ID can be hacked giving access to a large number of accounts. Most exchanges are highly secure but there are incidents reported of hacking and stealing of cryptocurrency.
Cryptocurrency is digital form of currency and it can be scammed.
Following are some possible ways for cryptocurrency fraud:
1 Improper Website
Someone who is expert in cryptocurrency has given you a tip to follow some cryptocurrency exchange website. But you can become a victim of fake website. There are many websites which have been designed to resemble the original. These fake websites take you to another platform for payment. You should look out for small lock icon near website URL which indicated security and "https" in the site address. If you don't find it, think twice.
To avoid this type of scam, you should type website URL properly or check website address twice. Sometimes, there can be difference of alphabet "O" and number "0" in the URL. Else, you can bookmark the original website instead of clicking on link shared by an email.
2 Fake Mobile Apps
Scammers also cheat people through fake apps available to download on Google Play or Apple App Store. You should check the spelling of name of app, logo, color used for branding. Check for the review, rating of app before downloading it.
Open your cryptocurrency wallet through trusted one only as opening with scammer can sell crypto wallets which can steal all your information.
3 Scamming Emails/Bit-phishing
Sometimes it looks like that you received an email from cryptocurrency company but it can be fraud. Such type of emails contain offers and deals. They can also ask for password or other sensitive information by threatening you for deduction of funds or fines. But, instead of getting excited and click on the link, you should first check the authenticity of email. Is the email address, logo, branding color theme exact same as company's? You can call the company and inquire about the email and offer? Never click on the link until and unless you verify it. Otherwise, you can open the company's website from browser instead of clicking on link.
Some scammers may offer Initial Coin Offering(ICO) by which they can cheat you with your fund under the name of ICO. Don't fall for such fake emails or offers.
4 Social Media Platforms
Sometimes, you follow account of famous people on social media but that account can be fake as many people make duplicate fake account. Same with cryptocurrencies. People make fake account and offer eye catching profitable deals which can be cheating. If someone from social media platform, ask for few cryptocurrencies in return of reward, don't give away as it can be fake and you will never be able to retrieve it again. Don's believe on such offers and do research.
Sometimes, scammer make phone call or use social media being representative of crypto exchange and ask you for sensitive information like password or financial details. Sometimes they can also tell you to give remote access to your computer. Giving access of your computer to them can give them information about your finances, digital life, etc. So, just like banks, crypto exchanges would never ask you for your sensitive information. You should first verify the phone number or social media account.
Read also: Strength of Currency